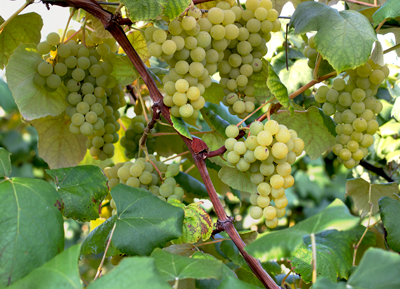 | | |
| --- | --- |
| Family | Grape |
| Type | White, Heritage (Native) |
| Availability | Yes |
| Juice Price | $8.25 |
| Brix | 17 |
| pH | 3.00 |
Availability: Sep 14 - Sep 17
About Diamond Grapes
Developed in the 1880s, Diamond grapes are a hybrid white grape from New York State that resemble Niagara grapes in terms of fruit and Concord grapes in terms of their vine. Unfortunately, they did not inherit Concord's ability to survive in harsh climates, which caused Diamond grapes to be planted significantly less than other varieties. Diamond grapes are one parent of Ontario grapes, which are a parent of Lakemont and Himrod grapes.
Diamond grapes have not migrated far from their home state, with all of their key growing areas residing in upstate New York. The Finger Lakes area is arguably the finest source of Diamond wines, although Lake Erie's vineyards to the west have also produced the variety. Diamond grapes usually ripen in the second week of September at Fulkerson.
Flavor
Diamond grapes, while similar to Niagara and Concord, have a much more pleasing flavor and character that is less "foxy" than the other two. As a dry table wine, it is one of the most distinctive and desirable of the American wine types, known to give off flavors of green apple, lemon, and mineral. Alternatively, sweet Diamond wines tend to have more pineapple and tropical fruit flavors. Overall, all wines created from Diamond grapes are consistently well-balanced, clean, and fruity. These wines, dry or sweet, tend to pair well with New York-style pizza, partridge with celeriac and bacon, and steak sandwiches with caramelized onion.
Uses
Diamond grapes are relatively versatile, used to make both still and sparkling wines in both sweet and dry styles as well as making champagne. At Fulkerson, we use Diamond grapes to create a sparkling varietal, although some wineries use them for blended wines.
Beyond wine, Diamond grapes make for excellent fresh juice and even outright eating. Folks also like them for creating jams and preserves.

Recommendations:
9/14/23: brix=15.5, TA=0.84, pH=3.0
9/21/23: brix=17, TA=0.89, pH=2.93
Return to List