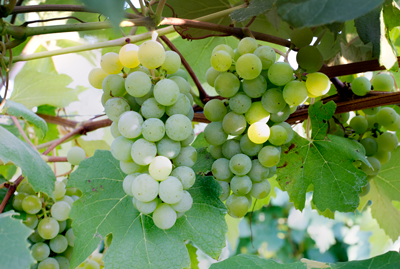 | | |
| --- | --- |
| Family | Grape |
| Type | White, Heritage (Native) |
| Availability | Yes |
| Juice Price | $5.75 |
| Brix | 12.5 |
| pH | 3.04 |
Availability: Sep 14 - Sep 17
About Niagara Grapes
Niagara grapes are a variety of the North American grape species Vitis labrusca. The Niagara grape was developed by Claudius L. Hoag and Benjamin W. Clark in Niagara County, New York, in 1868 through a cross of Concord grapes and white Cassady grapes. They were first sold commercially in 1882.
Niagara grapes don't handle shipping very well, so they are usually only found near where they are grown. Common growing areas in the United States include New York, Pennsylvania, New Jersey, Michigan, Washington, and Ohio; the variety is also grown in Ontario, Canada, as well as Brazil and New Zealand.
Flavor
Wines produced with Niagara grapes are "foxy" and fruity but usually lack the acid needed for good balance. Blending with a high-acid grape such as Catawba is recommended to improve the character of wines created with this variety. When analyzing the Niagara grape, the "foxy" character has been described as aromas like candied lemon rind, a Riesling-like diesel aroma, flowery jasmine-like notes, and a high-toned, candied muskiness. In order to not pass on a strong diesel aroma to the wines created by Niagara grapes, some believe that the skins should not contact the must for too long after the grapes are pressed.
Uses
Niagara grapes are used as both table and wine grapes and are also suitable for use in jams and jellies. In fact, Niagara grapes are the widest grown "green" grapes in the United States and are very popular for outright consumption. Niagara grapes are also well known as a good source of commercial white grape juice; we at Fulkerson agree, making a delicious cold-pressed white juice with part of our annual harvest.

Return to List