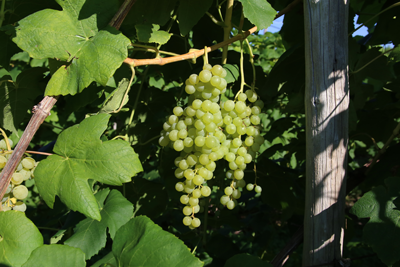 | | |
| --- | --- |
| Family | Grape |
| Type | White, Regional (Hybrid), Seedless |
| Availability | No |
Availability: -
About Himrod Seedless Grapes
A white table grape, Himrod Seedless grapes are a cross between the popular Thompson Seedless and Ontario grape varieties. It was released in 1952 by the New York Agricultural Experiment Station in Geneva, New York. As it turned out, the Thompson Seedless and Ontario cross was a very successful one, which resulted in the eventual release of three other cultivars; Interlaken, Romulus, and Lakemont grape varieties.
This vine produces seedless, golden-yellow fruit on large, loose clusters. A single vine can produce 10-15 pounds of fruit. Some claim Himrod Seedless grapes are the best quality of all the white grape varieties – though that statement is open to interpretation. However, they are the most commercially important seedless grape in New York State. Himrod Seedless grapes are known for ripening quickly, usually in the first week of September. However, they are vulnerable to bunch stem necrosis, a disorder that causes the cluster stem to shrivel just before harvest. But, they are quite hardy, disease-resistant, and good for home gardening given their self-fertile nature. Just be sure to not keep them in storage too long, as the skin of the grapes is known to shell.
Flavor
Himrod Seedless grapes are often described as having a sweet, delicate, almost honey-like flavor with a melting, juicy texture. When fermented dry, they can taste of ginger. However, if they are only fermented part-way through, they can taste like kiwi and lime. Their flavor is most similar to that of Concord grapes, as well as their sister cultivars Interlaken, Romulus, and Lakemont.
Uses
Himrod Seedless grapes are great for a variety of uses. Not only can they be used for wine and juices, but they are also great for outright eating as a table grape or being used to make raisins. At Fulkerson Winery, Himrod Seedless grapes are used in our "Matinee" wine.
Beyond the grapes themselves, Himrod grape vines are ideal for creating shade arbors and can easily be trained onto a trellis or over a gateway.


Return to List