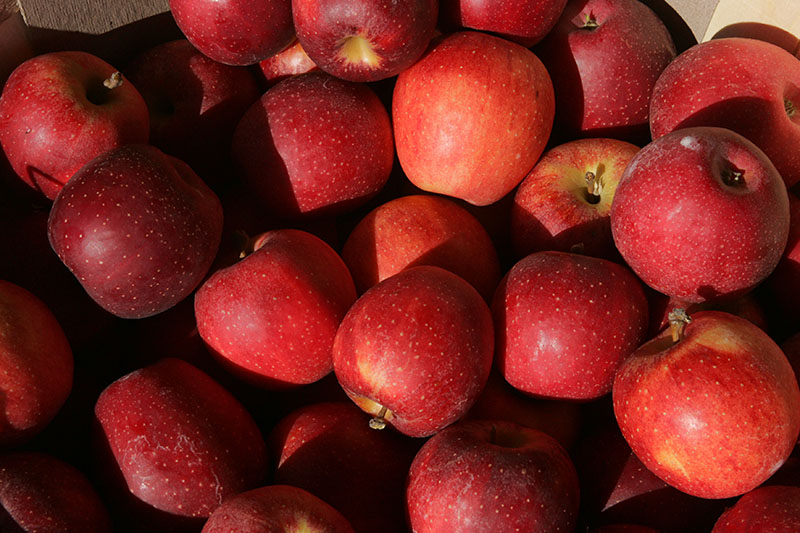 | | |
| --- | --- |
| Family | Apples |
| Availability | No |
Availability: -
About Gala Apples
Gala apples were developed in New Zealand in 1934 by breeder J.H. Kidd. They are a clonally propagated variety that is the product of a cross between Golden Delicious and Kidd's Orange Red apples. They began to be commercially distributed in Europe and the United States in the 1980s and are currently one of the most extensively grown apples in the world. The Gala apple is a parent to several varieties, including the Jazz, Royal Gala, and Pacific Rose apples. It is also tangentially related to both the Delicious and Cox Orange Pippin varieties.
Because they grow well in both warm and cold climates, they are popular in both the southern and northern hemispheres and are available year-round. In 2018, they actually surpassed Red Delicious as the apple cultivar with the highest production in the United States. This is supposedly the first time in over 50 years any apple has produced more than Red Delicious according to the US Apple Association.
Flavor
Gala apples are known for their mild and sweet flavor. Their sweet flavor becomes milder when cooked, so they pair well with stronger flavored apples like Granny Smith, Arkansas Black, Pippin, and Mutsu apples. Their flavor pairs well with pears, winter squash, onions, pecans, turkey, and curry, along with several kinds of cheese including brie, cheddar, and swiss.
Uses
The delicate flavor and texture of the Gala apple makes them perfect for fresh preparations, often used in fruit, green, and chopped salads. They also make great additions to fruit salsas, chutneys, and can even be added to burgers, paninis, and crostinis.
Return to List