Pasteurized & Shelf-stable
Fulkerson Winery is now taking orders for packaged pressed grape juice. Our grape juice for wine making is shelf-stable and does not require refrigeration.

If you'd like to special order a variety not listed, this may be an option as well. Packaged in 12 or 24 packs. Availability may be seasonal on certain varieties of wine juices.
We're pleased to offer our pressed grape juice for our home winemaking enthusiasts. Whether you're a seasoned winemaker, or a novice looking to embark on your first winemaking experience, our carefully prepared grape juice for wine making simplifies the process and guarantees quality results.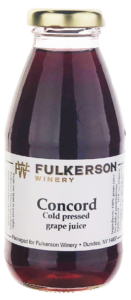 | | | |
| --- | --- | --- |
| Variety | Size (oz) | MSRP |
| Cider: Burgundy | 10 (24pk) | $4.00 |
| Cider: Cortland | 10 (24pk) | $3.50 |
| Cider: Empire | 10 (24pk) | $3.50 |
| | | |
| Catawba | 10 (24pk) | $3.50 |
| Chancellor | 10 (24pk) | $3.50 |
| Concord | 10 (24pk) | $3.50 |
| | 32 (6pk) | $9.00 |
| Diamond | 10 (24pk) | $3.50 |
| Himrod | 10 (24pk) | $3.50 |
| Niagara | 10 (24pk) | $3.50 |
| | 32 (6pk) | $9.00 |
| Riesling | 10 (12pk) | $4.50 |
| Rosette | 10 (24pk) | $4.00 |
| | | |
| Valvin Muscat | 10 (24pk) | $3.50 |