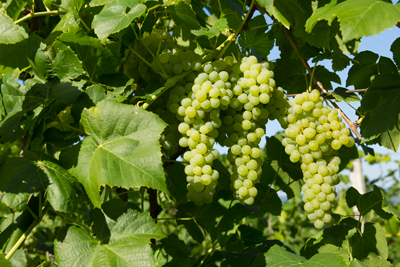 | | |
| --- | --- |
| Family | Grape |
| Type | White, Regional (Hybrid), Seedless |
| Availability | Yes |
| U-Pick Price | $.47 |
| Juice Price | $7.95 |
| Brix | 20.4 |
| pH | 3.00 |
Availability: Sep 21 - Sep 24
About Lakemont Seedless Grapes
Originating from Geneva, New York, this white seedless table grape is a high yield variety with large, compact clusters. It is a woody, deciduous, tendril-climbing vine that will typically grow 15-20′ long. Lakemont Seedless grapes are a part of the "Three Sisters" group, consisting of Himrod, Lakemont, and Interlaken varieties, all of which are named after cities in the Great Lakes region of North America. Lakemont Seedless grapes often ripen later than the other two "sisters", but are sweeter, have bigger fruit, and have a slightly different flavor. Some farms find that Lakemont varieties are more productive than their sisters.
At Fulkerson Farm, the Lakemont Seedless grapes are usually harvested around mid to late September and are also available for U-Pick. They are a very winter-hardy variety and quite resistant to mildew.
Flavor
Lakemont Seedless grapes are perfect for fresh eating and have been described as having a delicious honey-like taste. This variety produces an extremely heavy crop with large bunches of medium-sized fruits that mature to a golden yellow color and have a sweet flavor.
Uses
Lakemont Seedless grapes make for a good sweet wine and can produce subtle, delicate flavors. They can also be quite nice as a component of a "Matinee" style wine, often creating a wine similar to wines made from Himrod grapes.
Of course, for many Lakemont Seedless grapes are best enjoyed straight from the vine, especially thanks to their seedless nature. For that reason, they are also ideal for creating juice, jellies, or preserves.
Return to List