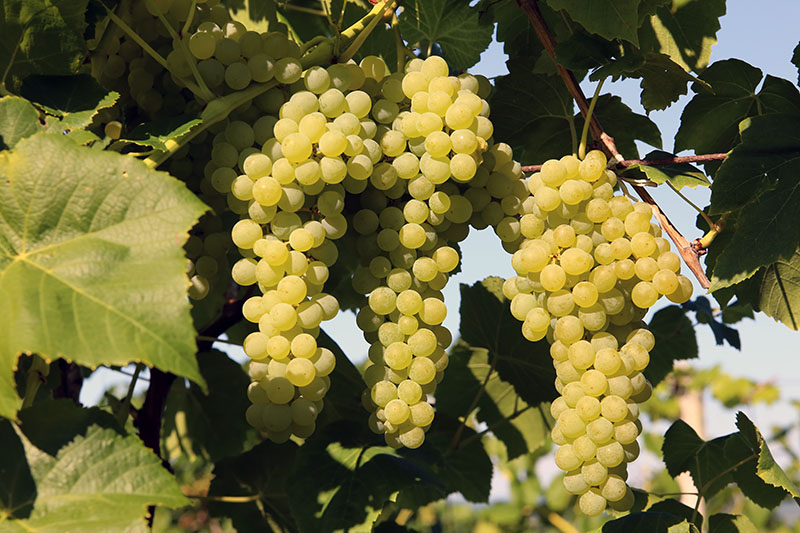 | | |
| --- | --- |
| Family | Grape |
| Type | Regional (Hybrid), White |
| Availability | No |
| pH | 2.90 |
Availability: -
About White Seedless Grapes
Developed by the New York State Agricultural Experiment Station in Geneva, White Seedless grapes were first introduced to the public in the 1950s. Not only are they great producers, but, before they produce fruit, they grow beautifully green ornamental foliage and dainty white flowers that pollinate themselves. Heavily disease-resistant and cold-hardy, White Seedless grapes aren't easily shaken. They grow quickly once they have been established in well-drained, humus-enriched soil and bear large, loose clusters of sweet, juicy fruit. The grapes themselves ripen early and keep well, and are usually ready to harvest in the late summer or early fall.
Flavor
White grapes, in general, are going to have a much lighter flavor than red or purple grapes. Many consider their flavor to be refreshing, with herbal notes and a fruit that is juicy and plump. They offer up a tart flavor that has honey-like notes with a melting, juicy texture when eaten.
In wines, they can produce a gingery taste if fermented dry. If only fermented part of the way through, wines can taste more fruity, like kiwi, lime, and (you guessed it) grape!
Uses
White Seedless grapes are perfect for snacking right off of the vine and can be used to make delicious white wines. While not a use of the grape themselves, White Seedless grapevines are quite bee-friendly and produce beautiful flowers before producing fruit, so they are often used around family homes or small farms. They are a beautiful blend of form and function.
Return to List