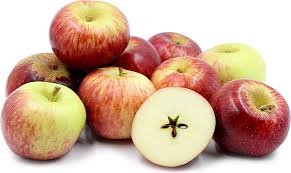 | | |
| --- | --- |
| Family | Apples |
| Type | Red |
| Availability | No |
| U-Pick Price | $0.70 |
Availability: Sep 30 - Oct 31

With the popular Red Delicious and McIntosh for parents, Empire was destined to be a hit when it was developed at Cornell University in the '40s. It's a sweet-tart combination that's very versatile.
Wonderful blend of sweet and tart
Juicy
Very crisp, creamy white flesh
Excellent for eating and salads
Good for sauces, baking, pies and freezing
Small Empires are great for school lunches. Kids enjoy the sweet-tart taste and super crunchy texture.
Return to List