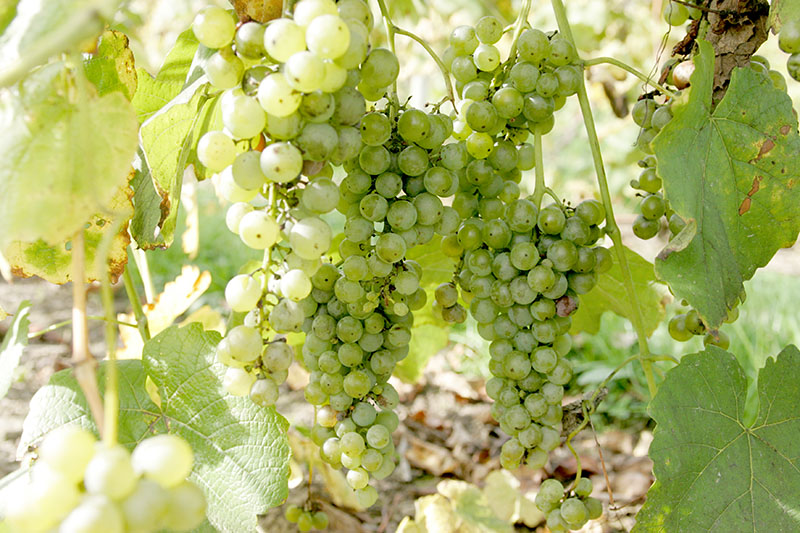 | | |
| --- | --- |
| Family | Grape |
| Type | White, Regional (Hybrid) |
| Availability | Sold-out |
| Juice Price | $8.50 |
| Brix | 18.5 |
| pH | 2.97 |
Availability: Sep 21 - Sep 24
About Seyval Blanc Grapes
Seyval Blanc grapes (also known as Seyve-Villard hybrid number 5276) are a cross between Siebel 5656 and Rayon d'Or (Seibel 4986) and are the most successful variety of a series of French hybrid grapes developed by Bertille Seyve and Victor Villard in the mid-20th century. A green-skinned variety, Seyval Blanc is a productive grape that ripens early in the season, making it suitable for cool climates. Seyval Blanc has been used as a parent variety in a number of subsequent hybrid grape varieties, including Chardonel, Phoenix, and Cayuga.
They are considerably popular in the United States and Canada, but especially so in England, where it is the most widely planted wine grape variety. In the United States, Seyval Blanc is grown extensively in New York state. At Fulkerson, it is our most popular "European" type variety.
Flavor
Seyval Blanc grapes are often considered as having a flavor profile somewhere between Chardonnay and Sauvignon Blanc. They are characterized by citrus elements in aroma and taste, with a minerality that has been compared to white Burgundy grapes. Wines created from this variety can benefit from light oak and secondary fermentation to enhance the natural flavor profiles. Wines made from Seyval Blanc grapes pair well with baked leeks and smoked salmon, avocado and grapefruit salad, and charred prawns with herb salad.
Uses
Seyval Blanc grapes are used to make dry white wine in the United States and are considered an easy variety for doing so. They are a recommended variety for beginner home winemakers. In England, Seyval Blanc is mainly blended into sparkling wine.
Return to List