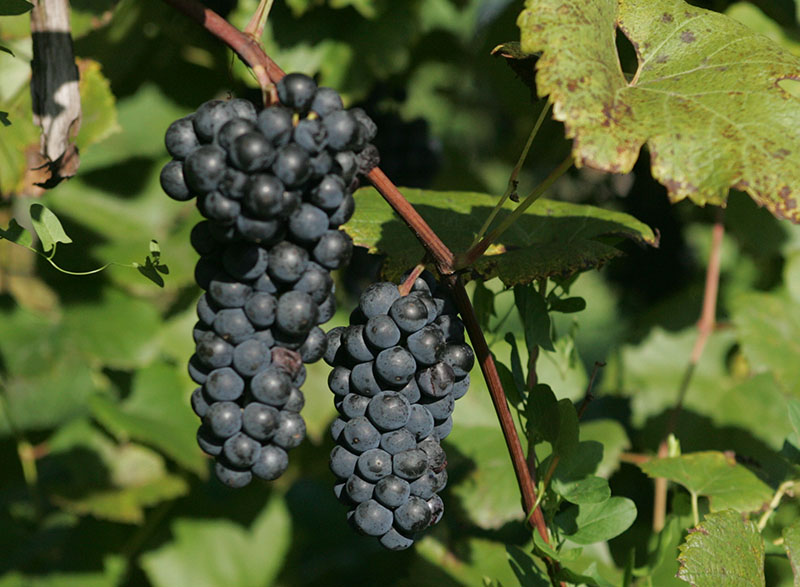 | | |
| --- | --- |
| Family | Grape |
| Type | Red, Regional (Hybrid) |
| Availability | Sold-out |
| U-Pick Price | $.72 |
| Juice Price | $8.75 |
| Brix | 16.8 |
| pH | 3.17 |
Availability: Oct 12 - Oct 15
About Vincent Grapes
Vincent grapes are a French-American hybrid variety that was bred specifically to be winter-hardy in areas like New York's Finger Lakes region. Developed in Ontario, Canada at the Vineland Research Station in 1967, Vincent grapes resulted from a cross between Vineland 370-628 and Chelois grapes. Dark blue or even black in color, these grapes are a late-season harvester and are moderately susceptible to black rot and powdery mildew and slightly susceptible to downy mildew and botrytis.
Vincent vines are medium in vigor, very productive, and quite cold hardy. The clusters of these grapes grow thick, so thinning is sometimes needed. It is recommended vines be planted six to eight feet apart to accommodate for their hearty growth. They do require some vine training in order to reach peak productivity.
Flavor
Wines made from Vincent grapes typically tend to be low in tannin, despite the dark color, and have an earthy character. They often produce fruit flavors, such as blackberry, black cherry, and plum, and have a complex nose with light overtones.
Uses
Vincent grapes make an excellent red wine similar to an Italian Chianti. It is often used in blends but has also received high ratings when produced as a varietal. Because Vincent grapes are so deep in color and produce a very dark juice, they are often used for blending with varieties that have low pigment content (which happens to be many red grapes grown in colder climates). Beyond the red wines, Vincent grapes are also quite popular for use in ports and port-style wines.
Return to List