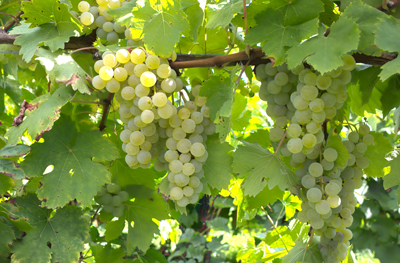 | | |
| --- | --- |
| Family | Grape |
| Type | White, Regional (Hybrid) |
| Availability | Sold-out |
| U-Pick Price | $0.72 |
| Juice Price | $12.50 |
| Brix | 17.3 |
| pH | 3.18 |
Availability: Sep 28 - Oct 1
About Valvin Muscat Grapes
Valvin Muscat grapes are a hybrid cross between Muscat Ottonel (Vitis vinifera) and hybrid Muscat du Moulin (Couderc 299-35). They were developed by grape breeder Dr. Bruce Reisch at the Cornell University New York State Agricultural Experiment Station and released to the public on July 7, 2006.
Valvin Muscat grapes are considered a mid-season white wine variety and are more winter hardy and disease resistant than muscat grapes that are pure Vitis vinifera (though they still prefer warmer climates as a whole). They produce moderately large fruits with thin skins, and small, compact clusters. Harvest times vary, and Valvin Muscat grapes should be harvested when the peak of the Muscat flavor is reached, which is determined through tasting and experience. Research has shown they are sensitive to phylloxera, moderately susceptible to black rot, downy mildew, and powdery mildew, and are usually more productive vines when grafted.
Flavor
Valvin Muscat grapes have distinct muscat (pronounced sweet, musky, and floral) characteristics and no objectionable bitterness. They are highly aromatic and create wines to match – some describe wines created from this variety as having orange spice characters or honey-like notes.
Uses
Valvin Muscat grapes consistently produce wines of high quality with spicy and floral aromas, making them a highly sought-after variety for both commercial purposes and home winemakers. They have also been employed for wine blending purposes.
In addition to making great wines, they are often eaten fresh from the vine or can be dried to make Muscatel raisins thanks to their thin skin.
Return to List