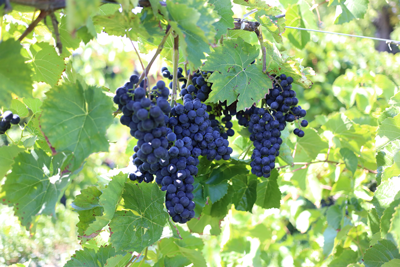 | | |
| --- | --- |
| Family | Grape |
| Type | Red, Regional (Hybrid) |
| Availability | Sold-out |
| Juice Price | $8.00 |
| Crushed Price | 1.00 |
| Brix | 18.6 |
| pH | 3.05 |
Availability: Oct 5 - Oct 8
About Chancellor Grapes
Chancellor grapes, also known as Seibel 7053 Chancellor, are a cross of Seibel 5163 and Seibel 880 and were developed in France. Despite their origins, these grapes are now grown almost exclusively in the United States and Canada, as they are highly productive in cold weather and do not perform well in humid and hot areas with low ventilation.
The grapes themselves are often black in color with a firm skin. The flesh is not overly juicy, which is why they are not typically consumed outright. Unfortunately, Chancellor grape clusters are susceptible to downy mildew and the foliage is susceptible to powdery mildew, with the vines requiring cluster thinning during growth. Most plantings of Chancellor are in New York and Michigan, although there are home winemakers in less viticulturally inclined states, like Illinois and Nebraska, also growing and using the variety.
Flavor
Wines crafted from Chancellor grapes typically have full-bodied European character with notes of plum and apple. On the nose, wines made from these grapes give off fairly intense aromas of dried blueberries, raisins, cedar, plum, and dried figs. At their best, Chancellor wines create a spicy, slightly tangy red that is meant for early consumption with hearty dishes such as pepper steak or stews. The grapes and the wines they produce are often of medium acidity.
Uses
Currently, Chancellor grapes are one of the best French-American hybrids on the market. Typically not eaten or used alone, Chancellor grapes are blended with other hybrids or used as a varietal. They are most often a part of fruit-driven red wines that can be enhanced by barrel aging and, on occasion, blended with Vitis vinifera varieties like Merlot. Given their distinct coloring, they often give the wine they produce an inky, opaque purple color with a touch of crimson.
Recommendations:
Reduce acid by 0.2
Return to List