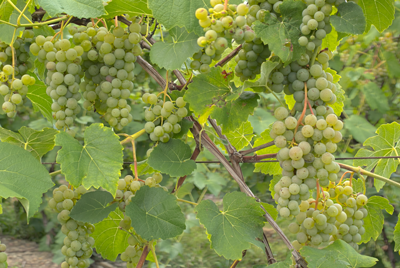 | | |
| --- | --- |
| Family | Grape |
| Type | White, Regional (Hybrid) |
| Availability | Yes |
| U-Pick Price | $.57 |
| Juice Price | $8.50 |
| Brix | 17.2 |
| pH | 2.93 |
Availability: Sep 28 - Oct 1
About Cayuga White Grapes
Developed from crosses of the Vitis labrusca hybrids Schuyler and Seyval Blanc at Cornell University's New York State Agricultural Experiment Station in Geneva, New York in 1972, Cayuga White grapes are one of the most productive and disease-resistant varieties grown in New York. With excellent cultural characteristics producing high-quality wines, Cayuga White is an important variety in New York, as the Finger Lakes region is an ideal climate that avoids flavor issues that comes with over-ripening. Overall, it is regarded as one of the easiest hybrid grapes to grow and make good wine from.
Cayuga White grapes ripen in mid-September and, when grown on mature vines in fertile soil, can produce astonishingly large yields. Given that the time of harvest affects flavor, Cayuga White's can produce nearly 13 tons per acre, allowing for phased harvesting. By having a "green harvest" and removing much of the fruit before the final phase of the ripening cycle, the fruit that remains can fully ripen on the vine, providing a wider range of flavors.
Flavor
Picked at the proper time, Cayuga White grapes can produce a very nice sparkling wine with good acid balance, structure, and pleasant aromas, or a fruity white wine similar to a Riesling or Viognier. In general, most wines made from Cayuga White grapes are fruity with aromas resembling apples, citrus, and tropical fruit. They tend to age well and are an easy grapy to work with, producing wines with excellent character and a rich mouth-feel. Its wine has been highly rated, having a medium body, and good balance.
One advantage of Cayuga White grapes are that, even if harvested before they're ripe, they still make good wine, albeit with more green apple flavors. When over-ripe, however, these wines can develop strong hybrid aromas with slight foxy overtones.
Uses
Reminiscent of "traditional", more well-known wines such as the Sauvignon Blanc, Pinot Grigio, or a "light" White Riesling, Cayuga White grapes make a very nicely balanced, pleasant white table wine. Very versatile, Cayuga White grapes lend themselves to making semi-sweet wines emphasizing the fruity aromas, but they can also be made as a dry, less fruity wine with oak aging.
Return to List