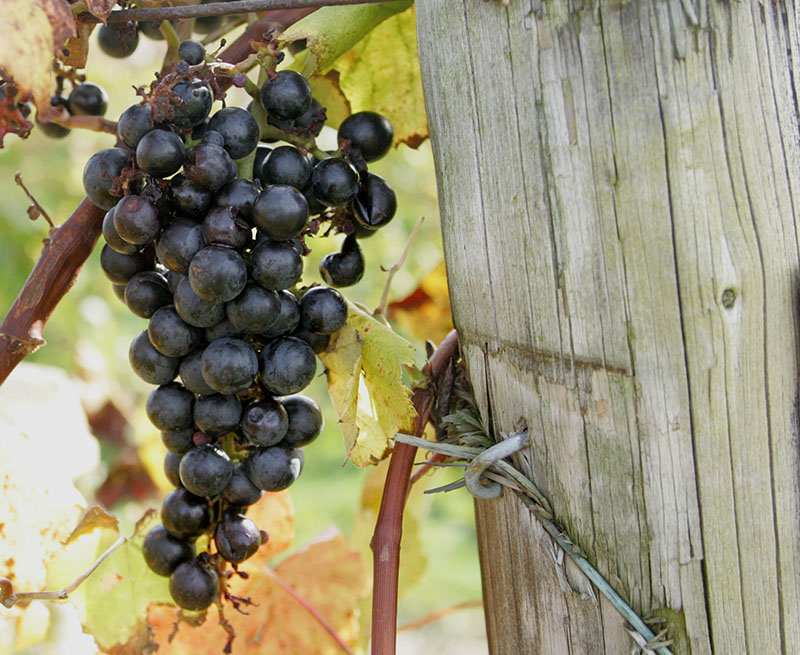 | | |
| --- | --- |
| Family | Grape |
| Type | Red, Regional (Hybrid) |
| Availability | Sold-out |
| Juice Price | $7.50 |
| Crushed Price | .90 |
| Brix | 15.5 |
| pH | 3.03 |
Availability: Sep 21 - Sep 24
About Rougeon Grapes
Rougeon grapes, also known as Seibel 5898, are a dark-skinned hybrid grown mainly in the Finger Lakes AVA of the United States. The variety was obtained in France by crossing Munson and Seibel 3015. It contains genes from Vitis aestivalis, Vitis labrusca, Vitis lincecumii, Vitis rupestris and Vitis vinifera. The variety is grown mostly in the United States, specifically in Indiana, Iowa, Missouri, New York, and Pennsylvania. In 2016, only a total of 21 hectares of vineyards were reported in the US.
Like many hybrids, it is productive and cold-hardy, producing fruit with a brilliant red hue. However, its susceptibility to both downy and powdery mildew, which means extra care must be taken in the vineyard. The vine produces medium-sized compact clusters of fruit, but production can be erratic; at times they'll produce as little as twice a year or once every two years.
Flavor
Varietal Rougeon wines are usually dry, with excellent color and medium body. However, there are also sweet Rougeon wines that can also inherit the beautiful color and medium body, though of course, these tend to be mixed with other sweet grapes. The fruit creates "soft" wines that tend to exhibit dark berry fruit characteristics. Wines created with Rougeon grapes pair well with chicken mole (if a dry wine), pasta with tomato and basil (if a dry wine), and chocolate cake (if a sweet wine).
Uses
Rougeon grapes are not used alone to create wine, rather they are most typically used to give its color to blends, usually appearing alongside other hybrid grape varieties like Chambourcin. They are quite versatile, often used in sweet wine and in ports. At Fulkerson, we blend Rougeon grapes with Catawba grapes to create our signature Red Zeppelin wine.
Return to List