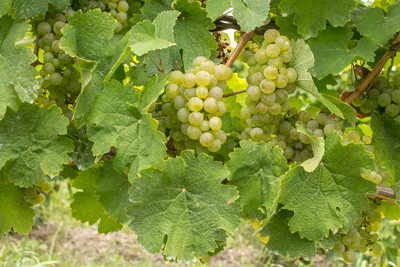 | | |
| --- | --- |
| Family | Grape |
| Type | White, Classic (Vinifera) |
| Availability | Upcoming |
| U-Pick Price | $1.48 |
| Juice Price | $18.00 |
Availability: Oct 12 - Oct 15
About Riesling Grapes
Riesling grapes are a white grape variety that originated in the Rhine region of France. They are considered the oldest grape in Alsace, France, and are widely considered the greatest of the German Rhines and Moselles varieties. Dry, fruity, and fresh, Riesling is one of the most elegant of the white wine grape varieties and is arguably the least appreciated white wine grape in the world.
The vine as well as the grape is very delicate and requires great finesse from the winemaker. But, when cultivated correctly, they can pay off in outstanding wines. Riesling grapes are usually included in the "top three" white wine grape varieties – together with Chardonnay and Sauvignon blanc. However, Riesling is a variety that is highly "terroir-expressive", meaning that the character of Riesling wines is greatly influenced by the wine's place of origin. They are well-suited for cultivation in western New York, with Riesling quickly becoming the variety that the reputation of the Finger Lakes wineries are being built upon.
Flavor
Riesling is an aromatic grape variety displaying flowery, almost perfumed, aromas as well as high acidity. Wines made from Riesling grapes result with a nose of roses, light fruits and citrus, and a steely and sometimes a little earthy flavor. Depending on the year, high acidity may require a slightly sweet finish, however truly dry Rieslings can make a big impact.
In cool climates (such as many German wine regions), Riesling grapes display notes of apple and other tree fruits, with noticeable levels of acidity that are sometimes balanced with residual sugar. In warmer climates (such as Alsace and parts of Austria), there is a late-ripening Riesling grape variety that can develop more citrus and peach notes. In Australia, Riesling is known to produce a characteristic lime flavor that tends to emerge in wines from the Clare Valley and Eden Valley in South Australia.
Uses
Riesling grapes are used to make dry, semi-sweet, sweet, and sparkling white wines. Riesling wines are usually varietally pure and are infrequently oaked. Riesling's naturally high acidity and pronounced fruit flavors give wines made from the grape exceptional aging potential; well-made aged wines will develop smokey and honey notes, with some even taking on a "petrol" character.
Return to List