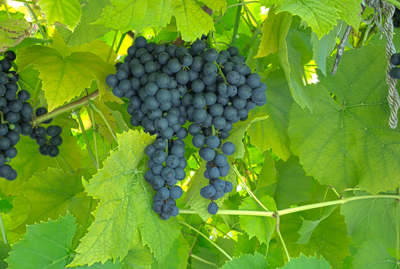 | | |
| --- | --- |
| Family | Grape |
| Type | Red, Regional (Hybrid) |
| Availability | Sold-out |
| U-Pick Price | $.50 |
| Juice Price | $8.25 |
| Crushed Price | .84 |
| Brix | 16.5 |
| pH | 3.12 |
Availability: Oct 5 - Oct 8
About Noiret Grapes
A mid-season red wine variety, Noiret grapes are a cross between the NY65.0467.08 (which itself is a cross of NY33277 and Chancellor) and Steuben grape varieties. The exact genealogy of Noiret grapes is complex — the variety has Vitis Vinifera, Vitis Labrusca, and Vitis Riparia in its lineage. Developed at the New York State Agricultural Experiment Station at Cornell University, the original vines were germinated in 1974 and plated permanently in 1975. It then grew for five years before being tested for wine characteristics in 1980 and was not released for public growing until 2006.
Noiret grapes ripen mid-season and are moderately winter hardy and moderately resistant to powdery mildew and Botrytis bunch rot. It is most popular and prevalent in vineyards in New York (most notably within the Finger Lakes AVA), Ohio, Virginia, Tennessee, and New Hampshire. Given its relatively young age as a commercial grape, Noiret is not widespread at present and only covers a minimal percentage of vineyard acreage. However, its viticultural properties mean this percentage will likely increase over time, especially given how favorable this variety is for home winemakers.
Flavor
Noiret wines are usually quite herbaceous and fruit-driven with soft tannins. The distinctive red wine is vibrantly colored and has notes of green and black pepper along with raspberry, blackberry, and some mint aromas. In this way, Noiret wines can resemble Shiraz (Syrah grapes). What's more, Noiret grapes are notably free of hybrid aromas typical of other red grape varieties. A major distinguishing characteristic of this selection is the fine tannin structure that is complete from the front of the mouth to the back. The tannin structure and the absence of any hybrid aromas strongly distinguish this selection from other red hybrid grapes. Wines made from Noiret grapes pair well with steak with peppercorn sauce, spicy jambalaya, and beef rendang.
Uses
As mentioned, Noiret grapes are often used to make red table wines or as a blending element for other red wine varieties. At Fulkerson, we use Noiret grapes as a blending variety for our other red wines, like Foch or Cabernet Franc.
Recommendations:
10/12/23 Brix: 17.3, TA=1.04, pH: 3.04
Return to List