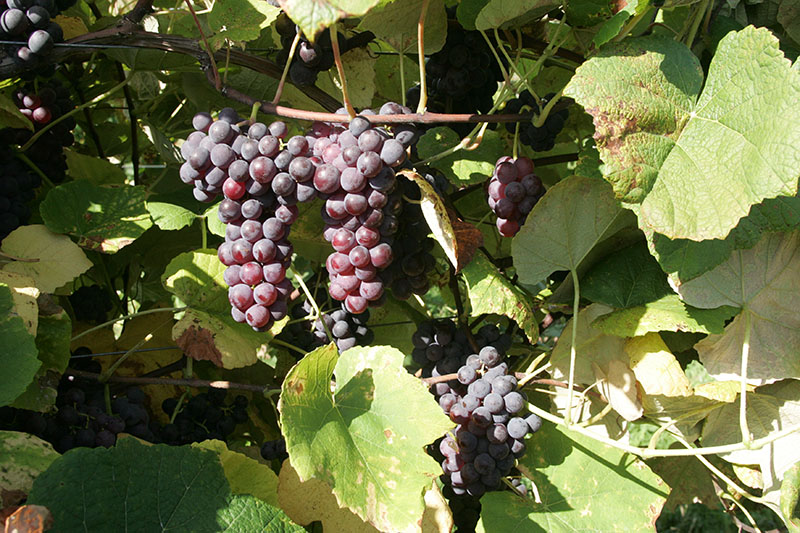 | | |
| --- | --- |
| Family | Grape |
| Type | Regional (Hybrid), Red |
| Availability | Upcoming |
| U-Pick Price | $.70 |
| pH | 3.00 |
Availability: -
About Red Seedless Grapes
There have been seedless grapes grown for centuries, but it wasn't until the 1870's that red seedless grapes, specifically the Thompson seedless grape, began to be created in California. Red seedless grapes were created from the cross-breeding of several cultivars, including the Black Monukka, the Russian Seedless, and the Thompson Seedless. Today red seedless grapes are grown around the world, including in Chile, Peru, the United States, China, Japan, Turkey, Spain, South Africa, and Australia.
Red seedless grapes are typically small to medium in size and are round to slightly oblong in shape. They grow in large clusters and their color can vary depending on the variety and growing conditions, but range from a light red to deep burgundy. The skin of these grapes is quite delicate and the flesh is tender and juicy. While touted as being "seedless" there may be a few undetectable and undeveloped seeds in each fruit.
Flavor
Red seedless grapes are firm, crisp, and sweet with a mild, neutral flavor. This makes them popular to enjoy on their own as well as makes them versatile for blending to create a variety of red wines. Red seedless grapes pair well with meats like salami, chicken, steak, and shrimp as well as other fruits/vegetables like olives, brussels sprouts, sweet potatoes, and apples. They're also great with certain types of cheeses, like brie, swiss, and gruyere.
Uses
Red seedless grapes are usually enjoyed fresh from the vine or in a variety of raw applications, like in fruit salads, smoothies, sorbets, and green salads. They can also be cooked down into sauces, syrups, and jams or used in baked goods.
Of course, they are also popular as a blending ingredient for a range of red wine varietals. Most red wines made with seedless red grapes pair well with the foods whole red grapes are enjoyed with.
Return to List