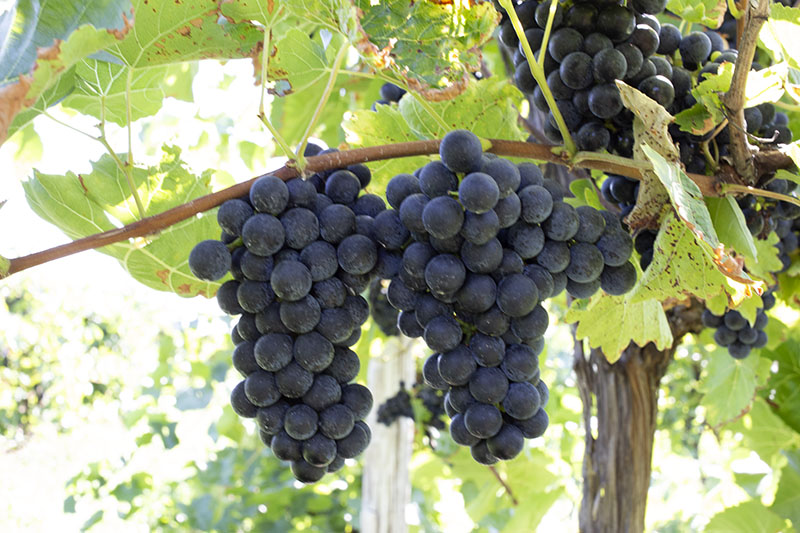 | | |
| --- | --- |
| Family | Grape |
| Type | Heritage (Native), Red |
| Availability | No |
Availability: -
About Fredonia Grapes
Fredonia grapes are an interspecific hybrid of Vitis labrusca and V. vinifera – its parents are Champion grapes and Lucille grapes. This variety was bred in Fredonia, NY in 1915 by F.F. Gladwin at the NYS Agricultural Experiment Station. They were introduced to growers in 1927.
Fredonia grapes are an extremely winter hardy, Concord-type grape. They are one of the earliest ripening varieties (when compared to the Concord), with vigorous vines. Many people refer to this grape as the money maker, as it is one of the first to fruit. The fruit changes from a beautiful pink to a nearly black color when ripe. Although ripening a bit unevenly on the cluster, the fruit can still be eaten while pink for a more tart flavor. When fully ripe, the grapes are very large, quite blue, and well filled. They have a thick skin, which keeps them resistant to bunch rot and helps protect them from wasps.
Flavor
Ripe Fredonia grapes have a very sweet flavor with a hint of spiciness. They've been described as delightfully sweet with a tangy flavor.
Uses
Realistically, you can use Fredonia grapes anytime and anywhere you would use the Concord grape. Common uses include fresh eating (either ripe or unripe for a tarter flavor), and making preserves, juices, and wine. Fredonia grapes are often used to produce a labrusca flavored rosé wine, although can create a stand-alone varietal.
Return to List