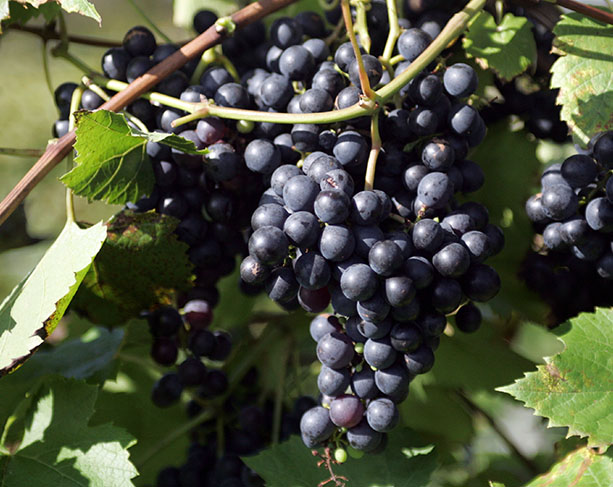 | | |
| --- | --- |
| Family | Grape |
| Type | Red, Regional (Hybrid) |
| Availability | Sold-out |
| U-Pick Price | $.53 |
| Juice Price | $8.25 |
| Crushed Price | .84 |
| Brix | 15.0 |
| pH | 3.10 |
Availability: Oct 5 - Oct 8
About Corot Noir
Developed by the grape breeding program at Cornell University, Corot Noir grapes are a hybrid red wine grape resulting from a cross between Seyve Villard 18-307 and Steuben varieties. Since its initial test for wine characteristics in 1978, it has been identified as test selection NY70.0809.10. Corot Noir has been available for testing by growers and research cooperators since 1994, though they were not released to the public for cultivation until 2006.
Corot Noir grapes were purpose-built to survive in cooler continental climates with cool winters, proving them well suited to viticulture across the northeastern USA. They are most often grown from Pennsylvania and New York (most notably in the Finger Lakes region) to Ohio, Indiana, and Illinois. They are a mid to late-season ripener. On deep fertile soils, vines can be excessively vegetative, leading to the production of abundant secondary and tertiary clusters. Disease resistance is good, with slight susceptibility to black rot and powdery mildew. They are, however, susceptible to downy mildew, and when conditions are conducive, downy mildew can lead to severe defoliation.
Flavor
Corot Noir grapes are deep red in color with an attractive cherry and berry fruit flavor. Its tannin structure is complete from the front of the mouth to the back, with large, soft tannins. Red wines made from Corot Noir are intensely colored and are considered to have none of the foxy aromas often associated with hybrids, particularly those with Vitis labrusca parentage. Flavor-wise, it is often compared to the French hybrid Chambourcin. Wines created from Corot Noir grapes tend to pair well with roasted leg of lamb, spaghetti Bolognese, and braised meat stews.
Uses
Corot Noir represents a marked improvement in the red wine varietal options available to cold climate grape growers. Suitable for blending or as a varietal, wines made with these grapes are free of the hybrid aromas typical of many other red hybrid grapes.
Return to List