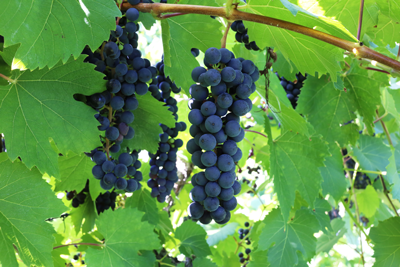 | | |
| --- | --- |
| Family | Grape |
| Type | Red, Regional (Hybrid) |
| Availability | Sold-out |
| Juice Price | $8.25 |
| Crushed Price | .92 |
| Brix | 15.5 |
| pH | 2.98 |
Availability: Sep 14 - Sep 17
About Baco Noir Grapes
Baco Noir grapes are a hybrid red wine grape variety. They were the result of a cross between Folle Blanche, a French Vinifera grape, and an unknown variety of Vitis Riparia (North America) with the intention of creating phylloxera-resistant vines that retained their French character. At one time Baco Noir grapes were grown in Burgundy and the Loire, but it was gradually culled from the region and instead moved to North America in 1951. It has since become one of North America's more successful hybrids, growing predominantly in Michigan, Mississippi, New York, Oregon, Pennsylvania, and Wisconsin. Its white counterpart, Baco Blanc, is famous for being the only hybrid variety permitted in a French AOC appellation (Armagnac).
The Baco Noir vines tend to be vigorous and need to be well-managed to produce significant yields. Its hardiness and ability to withstand cold conditions make it very suitable in the cooler wine-growing regions of North America, particularly around the Great Lakes. What's more, Baco Noir vines are fairly resistant to black rot and powdery and downy mildews because of their fairly loose clusters.
Flavor
Baco Noir grapes produce a medium body, deeply tinted, acidic red wine which often has aromas of black fruit and caramel. This variety does not express the distinctive foxy aromas and flavors of other Vitis Riparia varieties, but instead tastes of rich fruit tones, typically identified as predominantly blueberry and plum.
Wines made from Baco Noir tend to be light- to medium-bodied (but can be full), with fresh, snappy acidity. Some darker versions produce rustic, savory notes. Wines made from Baco Noir grapes pair well with crumbled turkey scallopine, roasted pheasant served on lentils, and baked Tasmanian ocean trout.
Uses
Baco Noir grapes are great for producing dry table wines that have very good aging potential — most can be aged for upwards of 5-8 years. Baco Noir wines take well to oak and generally require it to support their tannic structure. The variety also takes malolactic fermentation well and makes a great Bordeaux-style wine.
Recommendations:
Reduce Acid by using 71B yeast, calcium carbonate/Limestone.
Return to List