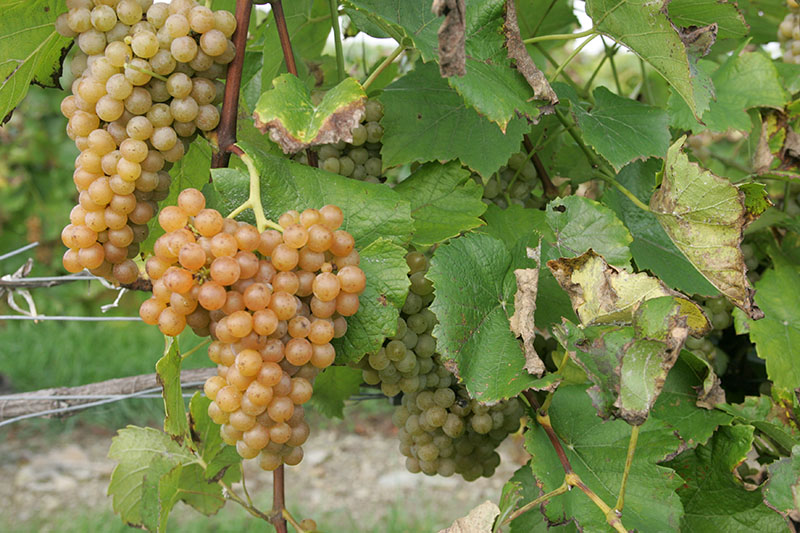 | | |
| --- | --- |
| Family | Grape |
| Type | White, Regional (Hybrid) |
| Availability | Upcoming |
| Juice Price | $11.50 |
Availability: Oct 12 - Oct 15
About Traminette Grapes
Traminette grapes are a late midseason white wine grape. They were created as a cross of the French American hybrid Joannes Seyve 23.416 and the German Vitis vinifera cultivar Gewürztraminer made by Herb C. Barrett in 1965 at the University of Illinois, Urbana/Champaign. He sent the cross to the New York State Agricultural Experiment Station grape breeding program at Cornell for development when he departed from the University of Illinois. These seeds were planted at Cornell's grape breeding program in 1968, with fruit first observed in 1971. The vine was described as vigorous with productive green grape growth with moderately loose clusters.
Barett's intention was to produce a large clustered table grape with the flavor of Gewürztraminer, but its quality quickly made it favorable as a wine grape in northeastern states. Today, Traminette grapes are grown extensively in Virginia, Indiana, and New York, with it eventually becoming the signature grape variety in Indiana. Traminette grapes are considerably hardier than Gewürztraminer grapes and about as hardy as many cultivars of similar backgrounds, including the Seyval, Vidal blanc, Cayua White, and Aurore grape varieties.
Flavor
Dry to semi-dry varietals made from Traminette grapes have been described as having good body and a slight Gewürztraminer character. They often have floral aromas and spicy flavor, however, these wines tend to be high in acid. Its flavor is sometimes referred to as a winter-hardy version of Gewürztraminer, but without its same perfumed intensity. Wines made from Traminette grapes ten to pair well with salmon with chili and ginger (dry wines), Thai green curry (off-dry wines), and rose, lychee, and vanilla cupcakes (sweet wines).
Uses
Traminette grapes have excellent qualities for creating wine. This – paired with their good productivity, partial resistance to several fungal diseases, and cold hardiness superior to its acclaimed parent – makes them ideal varieties for many vineyards.
Traminette is a versatile grape variety used to make dry, off-dry, sweet, sparkling, and ice wines. They have even been used in some botrytis-style wines, achieving good viscosity and concentration.
Return to List