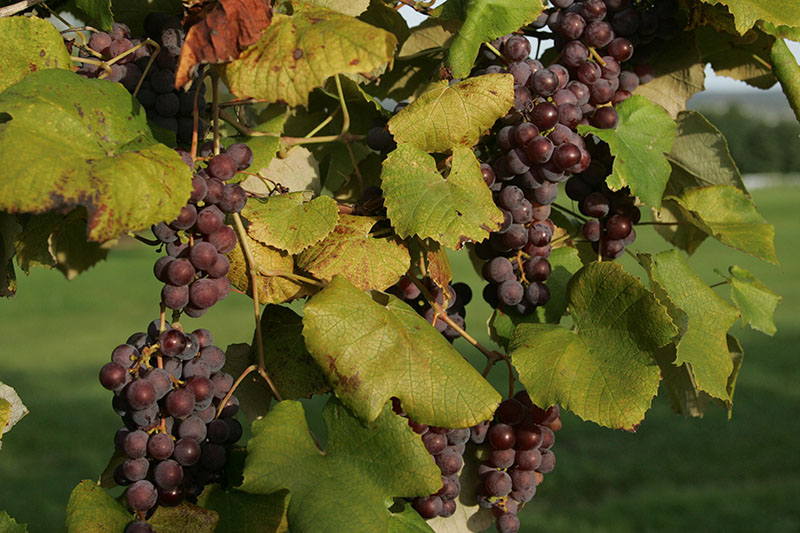 | | |
| --- | --- |
| Family | Grape |
| Type | Heritage (Native), Pink |
| Availability | Upcoming |
| Juice Price | $5.60 |
Availability: Oct 12 - Oct 15
About Catawba Grapes
Grown predominantly on the East Coast of the United States, this pink grape is a likely cross of the native American Vitis Labrusca and the Vitis Vinifera cultivar Semillon. Its exact origins are unclear, but it has been fabled to have originated somewhere on the East coast from the Carolinas to Maryland OR somewhere in Asia Minor, probably around Turkey. During the early to mid-19th century, it was the most widely planted grape variety in the country and was the grape behind Nicholas Longworth's Ohio sparkling wines that were distributed and acclaimed in Europe and across the United States.
Catawba grapes are a vigorous, hardy, deciduous vine that thrives through humid summers and cold winters and has deep green foliage. Grown for its medium-sized clusters of round, dull grapes, this late-ripening variety isn't typically ready for harvest until weeks after many other Labrusca varieties. And, like many Vinifera varieties, it can be susceptible to fungal grape diseases such as powdery mildew. It is planted and cultivated mostly around Lake Erie and the Finger Lakes wine region, but can also be found in Arkansas, Georgia, Michigan, Missouri, Ohio, Pennsylvania, North Carolina, South Carolina, and Washington.
Flavor
Catawba grapes produce enjoyable wines that can be made sweet or nearly dry, with similarities often drawn between it and White Zinfandel wines. Most of these Catawba wines have a slight "foxy" character with mild berry and fresh fruit notes and a bright, smooth finish. Catawba wines made in the "methode Champenoise" — which was the process used to create the famous Ohio sparkling wines nearly 200 years ago — tend to have floral aromas and muted, fruity undertones.
Uses
Catawba grapes are well-suited for jellies and juices as well as for making sweet white, red, and rosé wines. The high acidity in the grapes make them a great variety for blending, too. In fact, Catawba grapes are a large component of our Red Zeppelin wine. Catawba grapes can also make a delicious fresh grape juice; we at Fulkerson agree, making a tasty cold-pressed red juice with part of our annual harvest.


Return to List