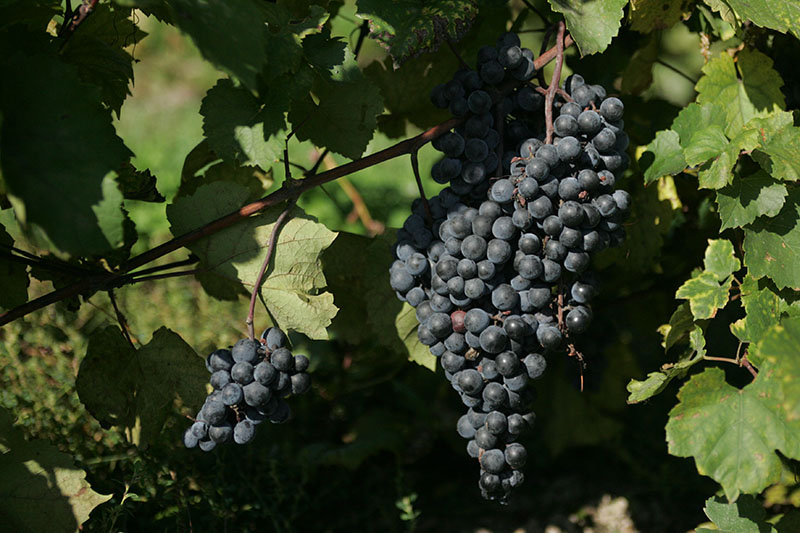 | | |
| --- | --- |
| Family | Grape |
| Type | Red, Regional (Hybrid) |
| Availability | Sold-out |
| Juice Price | $8.25 |
| Crushed Price | .88 |
| Brix | 17.0 |
| pH | 3.23 |
Availability: Sep 28 - Oct 1
About DeChaunac Grapes
Also known as Seibel 9549, DeChaunac grapes are a French-American hybrid created as a cross of Seibel 5163 and Seibel 793 varieties. Named after Adhemar de Chaunac, a pioneer in the Ontario wine industry, DeChaunac grapes are a dark-skinned variety that ripen early in the season.
DeChaunac is known to have a very vigorous growth habit and good resistance to powdery mildew and downy mildew. Given their large clusters and rot resistance, they are great for home growers or small vineyards. That said, they are still mainly grown for wine or juice production in the Northeastern United States, especially in the vineyard-heavy regions of New York, Pennsylvania, Nova Scotia, Ontario, Michigan, and Ohio.
Flavor
DeChaunac produces an excellent, full-bodied Bordeaux style wine and ages well. They have a very distinct, fruity flavor with notes of orange and plum with a fruity bouquet. They've even been described as having complex flavors of black and red cherries with a bit of a musty nose. The grapes are very balanced in acidity and have a uniquely tart finish that makes them perfect for wine or juice. Wines created from DeChaunac grapes tend to pair well with deep-dish pizza, lamb shanks braised with tomato and garlic, and stir-fried beef and vegetables.
Uses
DeChaunac is a French-American hybrid wine grape variety used to make red wines and juices.
Given their good character, they are very popular for winemaking and offer the best value for a full-bodied red variety.

Return to List