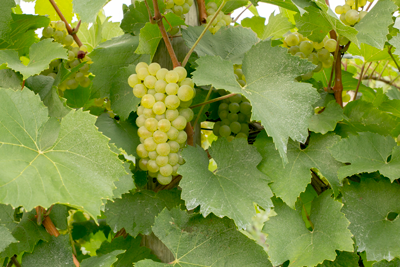 | | |
| --- | --- |
| Family | Grape |
| Type | White, Classic (Vinifera) |
| Availability | Upcoming |
| Juice Price | $17.85 |
Availability: Oct 5 - Oct 8
About Chardonnay Grapes
Chardonnay grapes are considered the most prestigious French white cultivar. For much of its history, a connection was assumed between Chardonnay and Pinot Noir or Pinot Blanc grapes. In addition to being found in the same region of France for centuries, ampelographers noted that the leaves of each plant have near-identical shape and structure.
Chardonnay is often considered a winemaker's grape and has a wide-ranging reputation for relative ease of cultivation and ability to adapt to a variety of climates and conditions. It has a vigorous vine, with extensive leaf cover which can inhibit the energy and nutrient uptake of its grape clusters. This can be managed with aggressive pruning and canopy management and do well with an umbrella training style. In certain conditions the vines can be very high-yielding, however, wine quality will suffer if yields go much beyond 4.5 tons per acre.
Flavor
Chardonnay grapes can taste different, depending on where they are grown and the process used to make them into wine. Wines made from Chardonnay can be crisp and clean, or rich and oaky, and are typically dry, medium to full-bodied, with moderate acidity and alcohol. Most Chardonnay wines have an appealing fruity fragrance that often resembles pear, fig, apple, papaya, pineapple, or melon.
Secondary Chardonnay wine flavors/notes can also develop throughout the winemaking process. The first set of flavors include coconut, vanilla, cinnamon, and nutmeg, which stem from the use of oak for aging. Factors that affect the secondary flavors and their intensity include the origin of the wood (French, American, etc.), the shape of the wood (barrels, chips, or staves), toast level, and length of time in contact with the oak. When aged with the use of a secondary malo-lactic fermentation, wines can take on classic "buttery" notes experts often describe.
Uses
Chardonnay grapes are one of the best varieties available for producing fine table wines, which often take well to aging in oak to bring out a vanilla flavor. The wines produced by Chardonnay grapes are versatile and meet a variety of price points, which is part of why it's such a beloved variety. They allow a winemaker creative license to make wines that are light and elegant or full-bodied and buttery.
Return to List