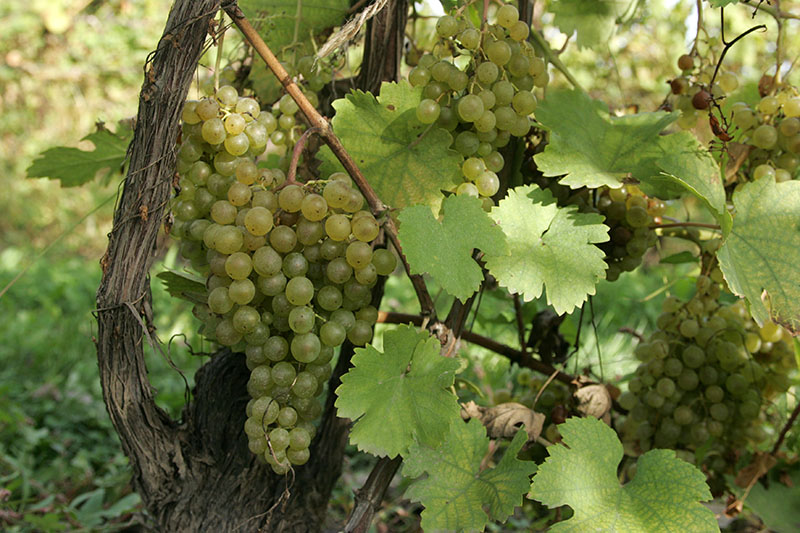 | | |
| --- | --- |
| Family | Grape |
| Type | White, Classic (Vinifera) |
| Availability | No |
| Juice Price | $17.35 |
| Brix | 17 |
| pH | 3.05 |
Availability: Sep 23 - Sep 26
About Sauvignon Blanc Grapes
Sauvignon Blanc grapes are a green-skinned variety that originated from the Bordeaux region of France. The variety gets its name from the French words sauvage (meaning "wild") and blanc (meaning "white") due to its origin as an indigenous grape in South West France. It is speculated to be a descendant of Savagnin grapes and is the parent of the Cabernet Sauvignon grape. Today Sauvignon Blanc grapes are widely cultivated in France, Chile, Romania, Canada, Australia, New Zealand, South Africa, Bulgaria, the states of Oregon, Washington, and California in the United States.
Some newer Sauvignon Blancs, particularly from California, may also be called "Fumé Blanc", a term coined by Robert Mondavi in reference to Pouilly-Fumé.
Flavor
Depending on the climate, the flavor of Sauvignon Blanc grapes can range from grassy to tropical. In cooler climates, they have a tendency to make wines with noticeable acidity and "green flavors" of grass, green bell peppers, and nettles. When these Sauvignon Blanc wines are aged for extended periods, as they often develop aromas similar to peas and asparagus.
In warmer climates, Sauvignon Blanc grapes can develop more tropical fruit notes and a crisp flavor. But, they risk losing much aroma from over-ripeness, leaving only slight grapefruit and peach notes. Wines created from these Sauvignon Blanc grapes have good acidity and aromas of lemongrass, melon, and apple.
Nearly all Sauvignon Blanc wines pair well with a grilled Caesar salad; given their dry, light-bodied nature, they don't overwhelm the delicate flavors of the romaine lettuce and the wine's herbal notes complement the herbs and vegetables in the salad.
Uses
Sauvignon Blanc grapes are ideal for making wines and juices and are commonly planted in many of the world's wine regions. They are most well-known for producing a crisp, dry, and refreshing white varietal wine not dissimilar to Chardonnay. The grape is also a component of the famous dessert wines from Sauternes and Barsac.
Very few Sauvignon Blanc wines have aging potential — dry and sweet white Bordeaux, including oak-aged examples from Pessac-Léognan and Graves, are some of the few compatible examples.


Return to List