Date: June 18, 2022
Time: 9am
Join us for our inaugural Derby at the vineyard. A day of spectacular horse jumping.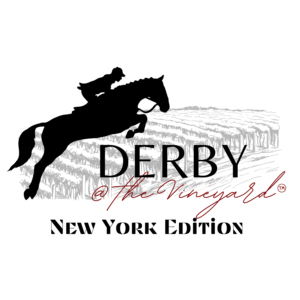 This day long horse jumping event will occur in between our cherry orchard and our vineyards, right behind the winery buildings. Come spectate and enjoy a glass of wine. General admission as well as premium views in the VIP seating area with table service will available for purchase. Want to enter a horse in the event? Click here for more info! Full description of the spectator event and other information is available HERE
Vendors include; Great Escape Ice Cream, JR's Back Alley Barbecue and Seneca Sunrise Coffee, as well as the Show Trunk II, for equestrian style and accessories.
Covid precautions will be in place. UNDER NEW YORK LAW, AN AGRICULTURAL TOURISM ACTIVITY OPERATOR IS NOT LIABLE FOR AN INJURY TO OR THE DEATH PURSUANT TO SECTION 18-303 OF THE GENERAL OBLIGATIONS LAW. EQUINE ACTIVITIES HAVE INHERENT RISKS AND AS SUCH ALL INSTRUCTIONS, WRITTEN AND OTHERWISE, MUST BE FOLLOWED AT ALL TIMES.
Check out the Facebook event and check back here for updates and scheduling as they occur. Terms and conditions of ticket purchase and event participation. Also, as a courtesy to our riders, canine friends will not be allowed to attend.
If you'd like to watch the event, please click the spectator category that you'd like to purchase.
Please choose "Pick up at the Winery" option when the pop-up appears.